Electro vacuum system M32-EVS1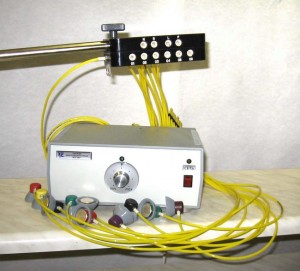 Electrode vacuum system M32-EVS1 (system of vacuum fixing of ECG electrodes) is used for providing securing contact of  current-collecting elements, suction electrodes with patient's body by means of created vacuum exhaustion of air into  suction electrodes.
Perfectly combined with all electro graphic instrumentations and instrumentations for testing cardiopulmonary system.
Is used for manipulation functional loading tests in cardiologic practice for simple and fast overlapping  ECG electrodes and operative removal of electrocardiogram under loading and state of rest.
This is:
the simplest and fastest method of attachment of ECG electrodes, which allows to  take cardiograms faster;
more saving, if compare with disposable electrodes, even if it's required to take only several cardiograms a day;
higher quality of ECG taking;
adaptive to several skin types;
The usage of system preserves the patient's cable from early wear;
works as a part of available equipment –ECG, bicycle ergometer.
TECHNICAL CHARACTERISTICS
Vacuum air pressure, kP                                                                   15-50
Voltage of Supply alternating current,V                                           220 ± 22
Supply frequency, Hz                                                                         50 ± 0,5
Working power, W                                                                              not more than 60
Weight, kg                                                                                            not more than 6
Overall dimensions, mm                                                                    not more 360x260x120